Taste the freshest and the best brown crab and blue lobster that Salcombe can offer
Seafocal of Salcombe (SOS) specialises in the supply of live shellfish, crabs, brown crabs and lobster direct from the quayside to your door. Freshly cooked is the best way to eat crabs and lobsters, and cooking in salty water is the simplest and fast way to cook shellfish. To achieve this quality and freshness you need fast delivery - and this is where Seafocal can help you.
We deliver to your door within a 10 mile radius of Salcombe (normally on a Friday). We can deliver further afield - please just enquire. We also export live shellfish all over the world, click EXPORT Orders for further information on export.
The fishing port of Salcombe, South Devon, is right on the doorstep of one of the best English Channel fisheries for brown crabs. The superior flavour of DEVON crab is known the world over. The nearby rocky coastline also gives up some of the finest tasting lobsters in the country.
The live shellfish are caught, carefully handled and stored by professional fishermen in clean high quality seawater. Seafocal ensures professional and careful handling goes all the way to your door so that you receive your order in the best possible condition - which means the flavour will be at its best.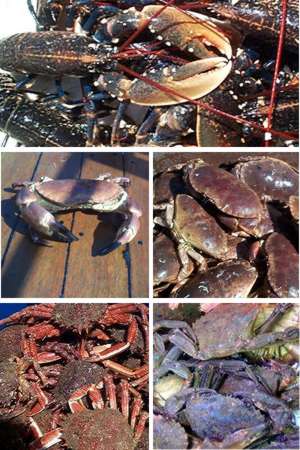 Click here to order online
Or Email richard@seafocal.com
Or telephone 01548 852405 / 07967597527
LOCAL ORDERING SERVICE SUSPENDED